Two images tht wld take your breath away....
This stunning image taken by the Cassini spacecraft was released by NASA two days bck. This is an image of Dione ,one of the moons of the Saturnian system, against the back drop of Saturn and its rings. These images keep getting better and better with every day and I cldn't stop myself from posting this image.
For those of you who want to know more details about this particular image....go to image ......and for those who want to know more abt the mission try Cassini-Huygens .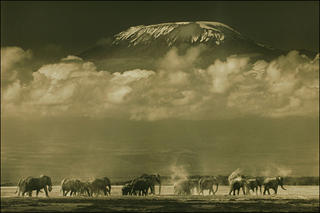 And this image won the best black n white wildlife photograph award for 2005 (BBC). It shows a crowd of elephants (wht does one call a crowd of elephants?) against the backdrop of Mt. Kilimanjaro which is 25miles away.
Simply amazing!!!!!!!!!!